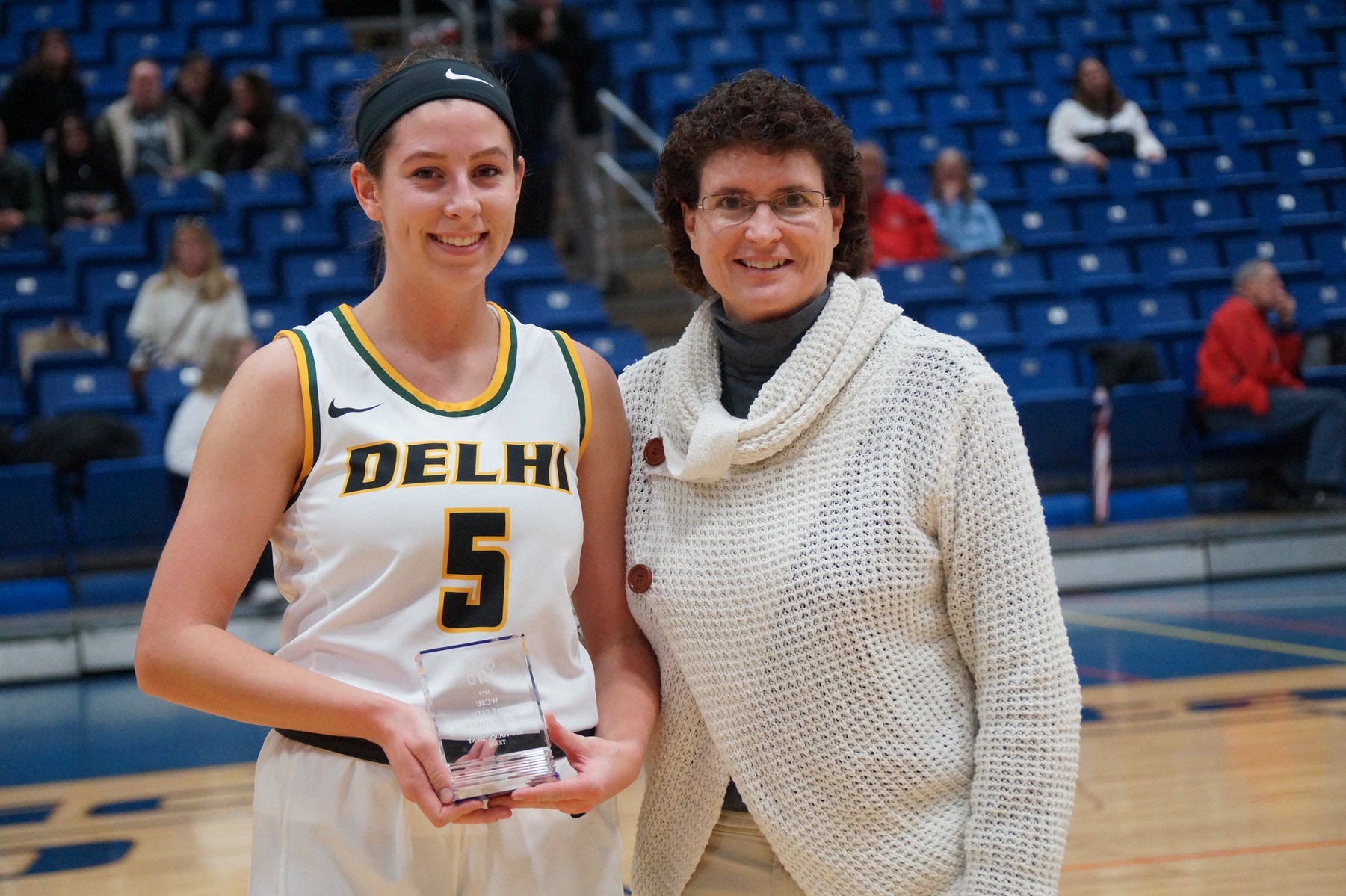 DANBURY, Ct. (December 30, 2019) – A first-quarter lead for the SUNY Delhi women's basketball team was countered by strong second and third quarters by Elms Monday as the Broncos dropped an 82-59 contest to round out their stay at the Western Connecticut State Hat City Tournament. Freshman forward Justine Lubbers was afterwards named to the All-Tournament Team following her performances against the Elms Blazers Monday and the host WCSU Colonials on Sunday.
Delhi got off to an impressive start that led to an 18-15 lead after the first quarter. But the Broncos were held to just two points through the opening six minutes of the second period. By the time Brenna Gioffe made the team's second field goal of the quarter, Elms had jumped out in front for a 29-22 lead, going into the half up, 37-29. The Blazers outscored the Broncos, 47-22, in the second and third quarters. Elms also held a 52-40 lead in rebounds for the game, and turned 26 Delhi turnovers into a 32-10 advantage in points off turnovers.
Camryn McDonald and Samiaya Salley each netted 16 points off the bench, with McDonald adding five rebounds and Salley five assists and three boards. Kiera Holland finished with 11 points, while Sam Acuna made six points with five rebounds. Katelyn Lewis recorded four points with nine rebounds. Lubbers earned four points with three boards on her way to the All-Tournament Team nod, coupled with her four-point, six-rebound showing against the Colonials Sunday.
The Broncos finished 35.5 percent shooting (22-for-62) and 3-10 from 3-point range, compared to the Blazers' 40.0 percent (32-for-80) and 12-for-30, respectively.
Head coach Lauren McRoberts' team heads back home to usher in the New Year hosting SUNY Canton on Saturday, Jan. 4 at 2:00 p.m.